Making You Comfortable
Villa Larimar in St. Croix, US Virgin Islands is a luxurious private getaway with all the facilities you could want or need, from UV filtered water to satellite TV to broadband WiFi throughout. This fully environmentally friendly retreat has its own cistern, solar system with battery back-up power and quiet, energy-efficient air conditioning in every bedroom.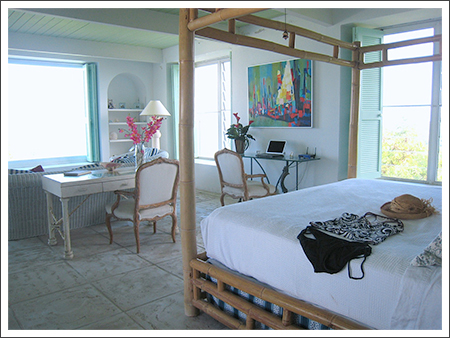 Our caretaker will help you find your way around and make you comfortable. He keeps the place in perfect condition. Mark is also an avid sailor, happy to help you set up your sailing or fishing trip. He will happily meet you at the airport and guide you home, although we are happy to report that your phone GPS now works beautifully on our little island, and Villa Larimar is a pin on google maps! Mark wants the guests of Villa Larimar loving St. Croix as much as he does before you depart.
The Amenities We Offer Are:
4200 sq. ft. Villa w/ Open Courtyard and Pool
Air Conditioning
Flatscreen TV w/DISH satellite and DVD
Four Bedrooms/Four Bathrooms
Towels, Linens, Toiletries

Full-Time Caretaker
Fully Equipped and Loaded Kitchen
Golf + Spa Privileges at Nearby Carambola




GPS Navigation Unit
Hi-Speed WiFi Internet Throughout
Laundry Room
Original Art
Propane BBQ Grill
Solar Panels
Sound System with Poolside Speakers
Tropical Fruit Trees



Call Us
If there is something you would like to ask us, contact us here.